Is nationalistic traits good or bad?
Since in my history class we are covering WWI, and I was needing another poll idea, this popped up. If some of you don't know, Nationalism is an overwhelm pride for your country, but is not limited to a nation, it can also be for language, race, but it usually leads to wanting to be a nation of what I said above. For example people that speak Italian want to rule themselves, be one true Italy. (Poor example I think, best I got atm)
my thoughts in spoilers, I suggest posting your thoughts before reading mine, I don't want to influence anything here, or start a flame war.
Spoiler:

(I'm focusing I think it is both good and bad. It is good as it binds the nation as one, letting the Gears run smoother then having a nation where over half the nation's people don't want to be ruled by a government not ran by the people. I also think it is bad because it has lead to racial superiority beliefs, and a neglect of what happens outside of that nation itself.
_________________
"In a world filled with misery and uncertainty, it is a great comfort to know that, in the end, there is a light in darkness."
-Fallout Equestria
"In life we have happiness, in death we have eternal peace.
-Lordleelee2
All the Stars in the Sky by Lynked
"I want to calm the storm, but the war is in your eyes.
"For I know tomorrow will be a better day.
Yes, I believe tomorrow can be a better day…" -Fallout Equestria, final words in the epilogue
"Heroes.
We all need heroes, children. Now more than ever. It's a good fight that their fighting and they are doing it on behalf of all of us. But the forces of evil are hard on heroes. No. It's brutal to them. It beats them down and tears them apart.
Inevitably, every hero fails.
But a true mark of a hero is how they pick themselves up, dust themselves off and throw themselves right back into that good fight."-DJ Pon3 Fallout Equestria
Pidgelordo

Lordleelee2/ZardBrood

Octavia





Posts

: 804


Reputation

: 11


Join date

: 2012-09-18



Spoiler:

I like how you capitalized "gears" in that spoiler. It caused me to misread it and think you said you wanted Gears to run the country or some shit. And now onto the UK and all. I wouldn't say I'm nationalistic or anything, but I have respect for my country as well as a feeling that I'd want to do something to help it. Like fix the economy. I think I'll go with "depends" for now.
Spoiler used: + 10 Points!
_________________
Techpony: Give me a shout if you have any problems around the site, or just in general!
DON'T WORRY, SCIENCE!
WUB WUB WUB~
Suggestions Thread
Issues Thread
Alternatively, send me a PM with the subject line of "Suggestion" or "Issue" depending on your message.
YouTube!
Free Entertainment! There's more
everyday!
Totally not self advertisement or anything...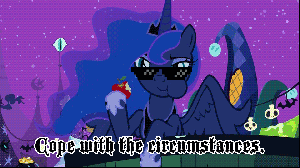 Lunarzius

Luna





Posts

: 548


Reputation

: 19


Join date

: 2012-09-18


Age

: 21


Location

: SCIENCE!



Some Definitions:
Patriotism - love for or devotion to one's country
Nationalism - loyalty and devotion to a nation; especially : a sense of national consciousness exalting one nation above all others and placing primary emphasis on promotion of its culture and interests as opposed to those of other nations or supranational groups
Jingoism - extreme chauvinism or nationalism marked especially by a belligerent foreign policy
Hope that clears things up.

Aeon_the_Hermit

Twilight Sparkle





Posts

: 142


Reputation

: 1


Join date

: 2012-10-26


Age

: 27


Location

: So. Cal.



Nationalism is a great thing in smaller amounts, I mean I don't want to live in America if every single person goes about saying how much greater France is, and the glory of Europe! I want to hear about the grand awesomeness of American companies, Apple Pie, and Ford Mustangs!

Though it gets bad when you want to go out, and destroy every single Toyota, and Mitsubishi, and force Ford mustangs on everyone, because your American cars are far superior to anything else made by anyone, and then you have a Mussolini Style dictatorship!
The I don't care much. You think your country is great? Good for you. I believe this whole world is one big pool of crap. Sooner This world fixes itself better everyone is.

---
Permissions in this forum:
You
cannot
reply to topics in this forum